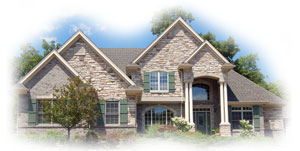 Welcome to Whitworth Appraisals, a leading provider of real estate valuations for the mortgage lending marketplace and appraisals for attorneys, estates, investors, Probate and the REO industry. We serve Clayton, Heny and Fayette counties. We also serve Butts, Coweta, Lamar, Pike and Spalding counties at a slight additional charge. Call if your county is not mentioned. We have many years of experience in the business and a proven track record of reducing time, efforts and costs in managing the appraisal process. Whether your property is in Conley, Ellenwood, Fayetteville, Forest Park, Hampton, Jonesboro, McDonough, Morrow, Rex, Riverdale, Stockbridge, GA or any other nearby area we can appraise it accurately, efficiently and quickly. Click the "Fee Quote" tab above and fill out the brief form to obtain a cost and turn-around time quote for your property or just give me a call.

We are a leading provider of appraisals for:
Primary and secondary mortgages
Mortgage refinancing
REO, foreclosure and pre-foreclosure appraisals
Pre-listing appraisals, buyers appraisals and private mortgage insurance (PMI) removal
Estate planning, Probate and investor appraisals
Divorce settlement appraisals
Our investment in training and technology has helped our customers greatly reduce their workload. By offering online appraisal ordering, coupled with automatic report status updates and electronic delivery of the final product, we are able to eliminate the run around and phone tag hassles associated with this process. Since this saves us money as well, we can keep our rates competitive with anyone in the industry.
Short turn-around times
Highest quality appraisal reports
Online status reports
Electronic ordering and delivery online
Competitive pricing
Through this website, you can perform a number of tasks. Ordering an appraisal is just a click away. Or, spend some time and find out a bit more about the appraisal business and appraisals. The more you know, the better decision you can make. Check back frequently, as our content is always being updated.
We do not accept unsolicited advertisements via phone, fax or e-mail. Our contact information is for the use of our customers requesting appraisals and/or appraisal related information only. We will be happy to help you. Please contact us via phone or e-mail with your questions. Thank you for your attention. We look forward to hearing from you.